Why Sell With The Missy Caulk Team?
In today's market, it's crucial to choose the right Realtor to sell your home. Having an Ann Arbor real estate expert on your side will help you sell your home for the most money and in the shortest amount of time possible, allowing you to focus on the next steps of your real estate journey.
Not all Realtors are alike, which is why you will need to do your homework before picking an agent to represent you and your home, which is likely your largest financial investment. To help you make the best decision, here are just a few of the reasons why home sellers choose to work with us.
We're Tech-Savvy Realtors
Most buyers find homes through the Internet; in fact, 58% of all of our closings coming from online buyers and sellers. In today's market, it is important to list your home for sale with a Realtor who embraces online marketing, is active on social media, and reaches potential buyers through advertising. When you list your home with The Missy Caulk Team, we will broadcast your listing to the widest audience of buyers possible.
Better Exposure = More Buyers
We will showcase your listing on our websites, Ann Arbor Real Estate Talk and Search Ann Arbor Houses, which allow your home to be seen throughout Southeast Michigan and the nation. We will also feature your listing on our social media sites, which include Trulia and Zillow.
We bring even more potential buyers to our website—and your listing—through Google advertising campaigns.
Your Property Wants to Show Off
In addition to showcasing your home online, we highlight your home's best features with a virtual tour, which is placed on the Ann Arbor Area MLS. We also use YouTube videos to show off your home in the best light.
Networking, Networking, Networking
Social networking is like winning an Academy Award. Building relationships online affords us the ability to connect with Realtors, lenders, stagers, and other real estate pros across the United States. Through Twitter, Facebook, and LinkedIn, we're able to reach out to people who can lead us to potential buyers for your home.
We're Real Estate Experts
Our team specializes in real estate in Ann Arbor and surrounding communities, including Saline, Dexter, Chelsea, Ypsilanti, and Manchester. Our team consists of 10 Buyer Agents to help people find homes, learn about local neighborhoods, and answer questions about everything from schools to music programs. With our local knowledge and real estate expertise, we'll help you reach buyers who are looking for the home of their dreams—yours.
Pricing Your Home Right is Crucial
Price your home too high and buyers won't think twice about skipping over your property. But price your home too low and you could lose the equity you've worked so hard to build! In order to attract as many buyers as possible without sacrificing your hard-earned equity, we set the asking price for your home at fair market value.
While the seller sets the price of the home, but ultimately the buyer determines the value. Our job is to supply you with the facts about what has sold recently and what is now for sale to help you make a decision.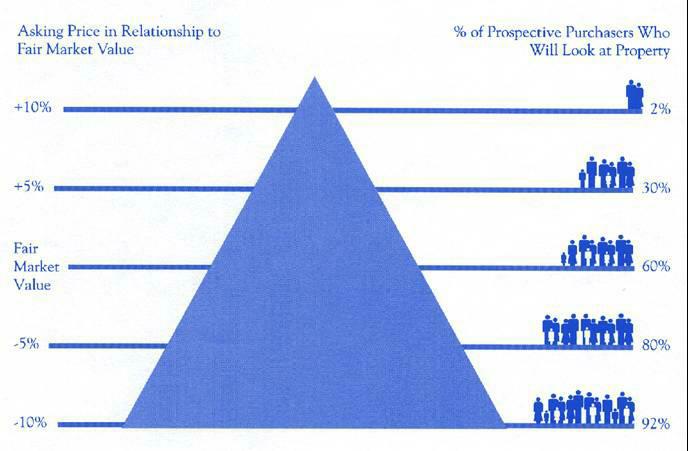 Avoid the Stress of Choosing the Wrong Agent!
Beware of devious agents! If an agent suggests a high price that's too good to be true, it probably is. You'll find that one this agent has your listing, your home won't sell as promised, and the agent will come back with a pitch to lower the price. That's why it's so important to choose an agent who is trustworthy and comes recommended by other home sellers.
Our Promise to You
We are so confident that you'll be satisfied working with us to sell your home that we have an Unconditional Listing Guarantee. If for any reason our team does not provide 100% satisfactory service, just let us know and we will promise to remedy the situation within 24 hours. If you are still not satisfied, we will release you unconditionally from the listing agreement without further obligation.
We'll Work Together
Prior to meeting with you for the first time, we will email you a Pre-Listing Questionnaire for you to complete and send back. That way we can ascertain your needs, time frame, and expectations. We will be a team working together to get you to the closing table.
Call Us and Let's Get Started
We will do everything we can to guide you through the home selling process, negotiate the best price, and ensure that you have a smooth and even delightful experience selling your home with us. Ready to see your home sold? Call us for a home evaluation at 734-926-9797.
Still searching for information about the Ann Arbor real estate market or the home selling process in general? Choose one of our featured resources below or contact us directly; we're more than happy to answer all your questions.
Washtenaw County Real Estate Resources